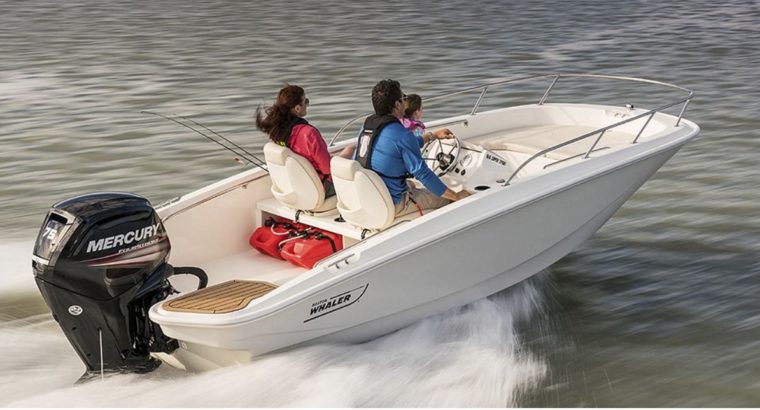 Features and adventures with the Boston Whaler 150 Sport
Exploring the inspiring features and adventures of the Boston Whaler 150 Sport. "Get ready for exciting water sports with the Boston Whaler 150 Sport. From skiing to wakeboarding, this versatile boat offers endless excitement on the water. Unleash your adventurous side!"
Characteristics of the Boston Whaler 150 Sport:
The Sport stands out from other boats in its class thanks to a number of unique features. The quality of its construction, design and functionality ensures an unrivaled sailing experience.
Sport's construction, which uses quality materials, guarantees its durability and longevity. Its unique unsinkable design gives sailors peace of mind and makes it a safe and reliable option.
Advantages of the Boston Whaler 150 Sport
Design: The elegant, modern style of the boat not only attracts attention, but also provides functionality. With spacious seating and storage options, you can easily accommodate your friends and family and take all the supplies you need with you on the go.
Functionality: This hull design combines stability and agility to provide good control and flexibility. With a reliable engine, this boat operates smoothly and efficiently, allowing you to explore the ocean with confidence.
Boating for pleasure with the Boston Whaler 150 Sport:
The Boston Whaler 150 Sport excels in offering life-changing recreational boating experiences.
Cruising: Set sail on leisurely cruises and enjoy the picturesque beauty of the rivers. The Sport will ensure that holidays with family and friends are joyful, thanks to its comfortable seats, spacious design and smooth ride.
Visit secluded bays, charming islands and breathtaking coastlines as you tour the city. Thanks to its mobility, you can travel by boat through small canals and shallow seas, allowing access to beautiful places.
Family Trips: Have lasting experiences on the lake with your loved ones. Everyone can travel in luxury on the 150 Sport, which also includes a range of safety measures for carefree and fun family outings.
Using the Boston Whaler 150 Sport for fishing:
The Boston Whaler 150 Sport provides a fantastic platform for those who love fishing to indulge their passion. Fishing Equipment: This boat has rod holders, lots of storage space and other fishing equipment.
Using the Boston Whaler 150 Sport for fishing
For those who enjoy fishing, the Boston Whaler 150 Sport is a fantastic choice. Its robust and unsinkable construction offers a safe fishing platform. Storing your fishing tackle and catch is easy as it has many storage options. The boat's reliable engine and excellent handling guarantee a productive and enjoyable fishing experience.
Using the Boston Whaler 150 Sport for water sports
The Whaler 150 Sport is also ideal for water sports. Whether you're wakeboarding, tubing or skiing, this boat provides unlimited fun on the water. Thanks to its adaptability and mobility, it is easy to participate in any water sports activity. Its powerful engine guarantees an exciting ride and the robust hull offers a smooth and relaxing experience.
The Boston Whaler 150 Sport is a fantastic vessel that provides boating enthusiasts with excellent features and benefits. This boat offers everything you could want, whether you are looking for a relaxing cruise, a productive fishing trip or exciting water sports. It is a great product with reliable performance, adaptability and security features. it is a great investment for any boating enthusiast.
New and used boats for sale in europe – free boat advertising.
Visit our other websites:
www.boatsforsale.eu
www.boat24.com.au
www.boat24.co.nz
www.lode24.eu
Photos: www.bostonwhaler.com