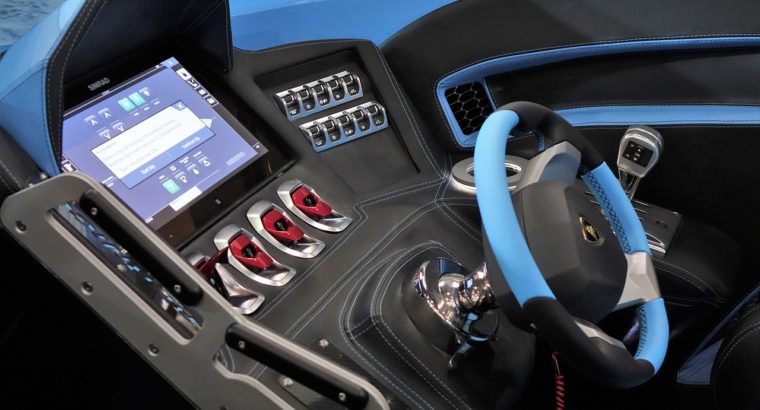 Best Speed Boats for Sale – Upgrade Your Adventure
Introduction Are you in the market for a speed boat? Whether you're a seasoned boater or a first-time buyer, finding the right speed boat for your needs can be daunting. In this article, we will provide you with an overview of speed boats and the factors to consider when purchasing one. We'll also offer tips on finding the best speed boats for sale and ensuring you make a smart purchase.
Definition of Speed Boats
Speed boats are high-performance vessels designed for speed and agility. They typically have powerful engines and sleek designs that allow them to easily cut through the water. They come in a variety of sizes and styles, from small runabouts to large offshore racers.
Types of Speed Boats
There are several types of speed boats, including:
Runabouts: Small boats that are great for recreational use, such as water skiing and tubing.
Center Consoles: Versatile boats that are popular for fishing and other outdoor activities.
Bowriders: Boats with an open bow area that is great for entertaining and soaking up the sun.
Cuddy Cabins: Boats with a small cabin below deck that offer a comfortable sleeping area.
Offshore Boats: Large, high-performance boats designed for racing or offshore cruising.
Jet Boat: Jet boats are propelled by a water jet instead of a traditional propeller. They are known for their agility and maneuverability in shallow waters. Jet boats are popular for recreational use, watersports, and navigating rivers.
High-Performance Boats: High-performance boats are built for speed and often feature powerful engines and sleek hull designs. They are commonly used in racing or for individuals seeking an exhilarating experience on the water.
Fishing Boats: While fishing boats may not be solely focused on speed, many models are designed for both fishing and speed. These boats typically have features like a stable platform, fishing rod holders, and ample storage for fishing gear.
Ski/Wakeboard Boats: Ski and wakeboard boats are designed specifically for water sports activities. They have features like a wakeboard tower or ski pylon to tow water skiers or wakeboarders, along with other amenities to enhance the experience.
RIB (Rigid Inflatable Boat): RIBs are characterized by their inflatable collars, which provide buoyancy and stability. They are commonly used as rescue boats or tenders but also popular for recreational purposes due to their versatility and durability.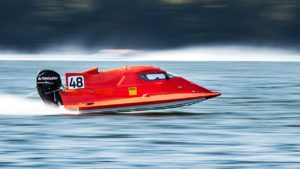 Benefits of a Speed Boat
Speed boats offer a range of benefits that make them an attractive choice for boating enthusiasts. Some of the key advantages include:
Thrills and excitement: There's nothing quite like the rush of speed and agility on the open water.
Outdoor recreation: Boating provides a great opportunity to enjoy the outdoors, whether you're fishing, water skiing, or just cruising.
Socializing: Boating is a great way to spend time with family and friends, creating lasting memories.
Investment: A well-chosen speed boat can hold its value and even appreciate over time, making it a worthwhile investment.
How to Identify the Best Speed Boat for You
Once you've narrowed down your search for a speed boat, here are some important steps to help you identify the best boat for your needs:
Understanding Your Needs
Think carefully about what you'll be using the boat for and what features are most important to you. Make a list of the must-haves for your new boat.
Conducting Research on Boats
Read reviews, visit online forums, and talk to other boaters to learn more about the boats you're interested in.
Getting Expert Advice
Consult with a knowledgeable boat dealer or mechanic to help you make an informed decision.
Advantages of Owning Speed Boats
Thrilling and exciting boating experiences
Unique and memorable social outings
Possibility of appreciation in value
Disadvantages of Owning Speed Boats
High cost of purchase and maintenance
Elevated risk of injury or damage
Need for significant skill and experience for safe operation
Insurance for Speed Boats
Boat insurance is a must-have when purchasing a speed boat. Here are some things to consider:
Understanding the Types of Boat Insurance
There are several types of boat insurance, including liability insurance, uninsured boater coverage, and comprehensive coverage.
Factors that Affect Boat Insurance Rates
Factors that may affect your boat insurance rates include the age, value, and usage of the boat, as well as your location and driving history.
Tips for Lowering Insurance Costs
Consider bundling your boat insurance with other insurances like home and auto. Also, a clean driving record and regular maintenance can also lower your insurance costs.
Common Mistakes When Buying Speed Boats
Avoid these common mistakes when shopping for a speed boat:
Not Setting a Budget
Failing to set a budget can result in overspending or taking out a loan you cannot afford.
Ignoring Insurance Requirements
Boat insurance is required in most states and neglecting it can lead to costly damages and liability issues.
Not Conducting a Sea Trial
A sea trial allows you to test the boat's performance in real conditions so you can see if it meets your needs.
Conclusion
In conclusion, purchasing a speed boat is a fun and exciting activity, but it's important to be prepared and informed before making the purchase. Follow the tips outlined in this article to help you find the perfect boat that fits your needs, and to ensure it provides you with years of enjoyment on the water.

FAQs
How much does a speed boat cost?
The cost of a speed boat varies depending on several factors, such as the boat type, length, features, and location. Prices can range from $10,000 to $200,000 or more.
What is the maximum speed of a speed boat?
The maximum speed of a speed boat can vary depending on several factors, such as boat size, engine capability, and type of water. In general, most speed boats range from 45 to 90 mph.
Is owning a speed boat risky?
Boating does come with some inherent risks, but with proper safety precautions and training, owning a speed boat can be a great and safe investment.
Are speed boats difficult to operate?
Operating a speed boat requires significant skill and experience, but with proper training and practice, it can be straightforward and enjoyable.
What should I do if I experience issues with my speed boat?
If you experience any issues with your speed boat, consult your owner's manual, or take it to a certified boat mechanic for repairs and maintenance.
luence the type of boat you need.
Budget: Set a realistic budget for your speed boat purchase and factor in additional costs beyond the purchase price.
Size and Capacity: Consider the size of the boat and the number of passengers it can accommodate, ensuring it meets your needs.
Condition of the Boat: Thoroughly inspect the boat for any signs of wear and tear, checking the hull, deck, and flooring for damage.
Engine Power: Ensure that the boat has enough engine power to meet your requirements, considering factors such as horsepower, fuel efficiency, and reliability.
Where to Find Speed Boats for Sale
When searching for speed boats for sale, explore the following options:
Reputable Dealers: Reputable dealerships offer a wide selection of new and used speed boats, often providing financing and warranty options.
Online Marketplaces: Online platforms like Craigslist and eBay provide a diverse range of boats for sale, but exercise caution when buying from unknown sellers.
Classified Ads: Check local newspapers and boating magazines for classified ads that offer boats for sale in your area.
Boat Shows: Attend boat shows to view a variety of boats in person, meet dealers and manufacturers, and gain insights into the boating lifestyle.