Best Marinas in Europe: Sail the Seas for Memorable Festive
Introduction
Europe, with its rich maritime culture and stunning coastlines, boasts some of the best marinas in the world. Whether you're a seasoned sailor or a passionate traveler looking for a unique experience, Europe offers a plethora of options to satisfy your maritime desires. Choosing the right marina for your adventure is of paramount importance, as it can greatly enhance the overall experience and provide access to top-notch facilities. This article will dive into the best marinas in Europe, exploring their locations, amenities, safety measures, and environmental initiatives.
Essential Considerations for Choosing a Marina
When selecting the perfect marina for your European voyage, there are several essential factors to consider:
Location and Accessibility
The location of a marina plays a vital role in your overall experience. Consider the proximity to popular coastal destinations, nearby attractions, and accessibility to transportation hubs. Opting for a marina that offers ease of access not only simplifies your journey but also ensures that you can easily explore the surrounding region.
Facilities and Amenities
A marina with excellent facilities and amenities can make a significant difference in your comfort while docked. Look for marinas that offer well-maintained docking spaces, fuel stations, electricity hookups, clean restrooms, showers, laundry facilities, and waste disposal services. Additionally, marinas with on-site restaurants, bars, swimming pools, and recreational areas can provide a truly immersive experience.
Safety and Security Measures
Prioritizing safety is crucial when choosing a marina. Look for marinas that have reliable security systems, including CCTV surveillance, controlled access points, and trained personnel who monitor the premises. Additionally, amenities such as well-marked navigation channels, mooring assistance, and reliable weather updates contribute to a secure and worry-free experience.
Environmental Consciousness and Sustainability Initiatives
In today's world, environmental responsibility shouldn't be overlooked. Look for marinas that actively practice sustainability initiatives, such as water and energy conservation, waste management, and promoting eco-friendly boating practices. Choosing a marina that prioritizes the protection of marine ecosystems ensures that future generations can also enjoy the wonders of Europe's seas.
III. Mediterranean Marvels
The Mediterranean region is renowned for its glamorous and captivating marinas. Here are some of the best marinas along the Mediterranean coast:
Luxury Retreats in the French Riviera
Cannes Marina
Situated in the heart of the French Riviera, Cannes Marina is a prime location for yachting enthusiasts. The marina offers first-class amenities, including state-of-the-art facilities, luxury boutiques, exquisite dining options, and easy access to the vibrant city of Cannes.
Port Hercules, Monaco
Known for its glitz and glamour, Port Hercules in Monaco is a magnet for superyacht owners and celebrities. With its stunning views, excellent services, and proximity to upscale restaurants, shopping areas, and casinos, this marina is a true playground for the elite.
Vieux Port, Marseille
Vieux Port, nestled in the historic city of Marseille, combines old-world charm with modern amenities. This marina offers a vibrant atmosphere, surrounded by picturesque architecture, trendy restaurants, and lively streets. It serves as an ideal base for exploring Marseille's rich cultural heritage.
Historic Charm Along the Italian Coast
Porto Antico, Genoa
Porto Antico in Genoa, Italy, is a marina that highlights the city's rich maritime history. With its ancient architecture, maritime museum, and vibrant waterfront promenade, this marina offers an authentic Italian experience. Enjoy fresh seafood, stunning views, and the charming ambiance of Genoa.
Marina Grande, Capri
No visit to Italy is complete without exploring the stunning island of Capri, and Marina Grande is the perfect entry point. Surrounded by crystal-clear waters, colorful buildings, and breathtaking cliffs, Marina Grande offers a taste of Mediterranean paradise. Enjoy the local cuisine, boutique shopping, and the vibrant atmosphere of this picturesque marina.
Porto Cervo, Sardinia
Porto Cervo, located in the enchanting island of Sardinia, is a favorite destination for luxury yacht owners. Apart from its world-class facilities, this marina offers stunning panoramic views, high-end boutiques, and renowned restaurants. Immerse yourself in the glamorous atmosphere of Porto Cervo and experience the epitome of Mediterranean luxury.
Tranquil Gems in the Greek Isles
Port of Hydra
Located on the idyllic island of Hydra, the Port of Hydra combines natural beauty with a laid-back atmosphere. This marina offers a tranquil retreat, surrounded by charming, whitewashed buildings and pristine beaches. Explore the island's rich history, enjoy authentic Greek cuisine, and bask in the peacefulness of this hidden gem.
Marina Corfu
Situated on the Greek island of Corfu, Marina Corfu is a gateway to the island's vibrant culture and natural wonders. This marina provides modern facilities, a bustling waterfront promenade, and convenient access to Corfu Town's historical sites. Experience the warmth of Greek hospitality and immerse yourself in the beauty of the Ionian Sea.
Elounda Marina, Crete
Elounda Marina, located in the picturesque town of Elounda, Crete, offers a serene setting surrounded by turquoise waters and breathtaking landscapes. This marina provides an ideal base for exploring the island's archaeological treasures, pristine beaches, and traditional Cretan villages. Enjoy the tranquility of Elounda as you embark on your Cretan adventure.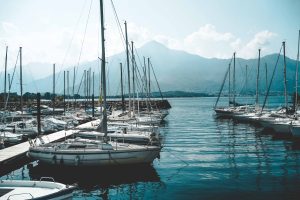 Best Marinas in Europe
IV. Northern European Treasures
A. Captivating marinas in the United Kingdom
Southampton Marina
Located on the south coast of England, Southampton Marina is a picturesque haven for boating enthusiasts. With its state-of-the-art facilities and welcoming atmosphere, this marina offers a perfect blend of luxury and comfort. Boasting over 200 berths, it caters to both leisure sailors and commercial vessels. Southampton Marina also provides convenient access to the Solent, a renowned sailing area for its challenging tides and breathtaking landscapes.
Katharine Docks, London
Nestled in the heart of the bustling city of London, St. Katharine Docks is a hidden gem for boat lovers. Surrounded by a vibrant waterfront community, this marina provides a unique experience for those seeking a combination of urban living and nautical adventures. With its historic charm, St. Katharine Docks offers picturesque views of iconic landmarks such as the Tower Bridge and the Tower of London. From here, boaters can explore the River Thames and its many attractions.
Portavadie Marina, Scotland
Set against the stunning backdrop of the Scottish Highlands, Portavadie Marina is a true escape into nature. Situated on Loch Fyne, this marina offers breathtaking views of rolling hills and crystal-clear waters. Boaters can take advantage of the extensive facilities, including a spa, a swimming pool, and even a fine dining restaurant. Portavadie Marina is also an ideal starting point to explore the beautiful islands of the Inner Hebrides, such as Islay and Jura.
B. Scandinavian splendor
Hennebryggen Marina, Norway
In the land of fjords and Vikings, Hennebryggen Marina stands out as a true Scandinavian gem. Located in picturesque Bergen, Norway, this marina offers a gateway to the country's dramatic landscapes. Nestled between mountains and the North Sea, Hennebryggen Marina provides a perfect blend of natural beauty and modern amenities. Boaters can explore the nearby fjords, hike in the surrounding mountains, or simply enjoy the tranquility of the marina.
Djurgårdsbrunnsviken Marina, Sweden
Situated in the heart of Stockholm, Djurgårdsbrunnsviken Marina offers a unique boating experience in the midst of a vibrant city. Surrounded by green parks and historic landmarks, this marina perfectly combines urban living with the beauty of nature. From here, boaters can easily explore the archipelago of Stockholm, comprising thousands of islands, each with its own charm and character. Djurgårdsbrunnsviken Marina is truly a gateway to the Swedish maritime paradise.
Turku Guest Harbour, Finland
Located on the beautiful southwest coast of Finland, Turku Guest Harbour showcases the country's rich maritime heritage. This marina provides easy access to the charming city of Turku, known for its historical sites and vibrant cultural scene. With its well-maintained facilities and cozy atmosphere, Turku Guest Harbour serves as a starting point for boaters to explore the stunning Finnish archipelago. From idyllic islands to secluded coves, there are endless possibilities for memorable adventures.
V. Unforgettable Eastern European Harbor Stops
A. Exploring Croatia's coastal wonders
ACI Marina, Dubrovnik
Dubrovnik, often referred to as the "Pearl of the Adriatic," is home to the renowned ACI Marina. This marina offers a luxurious retreat for boaters eager to discover the mesmerizing beauty of Croatia's coastline. Surrounded by ancient city walls and medieval architecture, ACI Marina provides a glimpse into the country's rich history. From here, boaters can explore the nearby Elaphiti Islands or venture further south towards Montenegro's stunning Bay of Kotor.
D-Marin Mandalina, Šibenik
Situated in the historic city of Šibenik, D-Marin Mandalina boasts an idyllic location in the heart of the Dalmatian coast. Combining modern facilities with traditional charm, this marina is a gateway to the breathtaking National Parks of Krka and Kornati. With its crystal-clear waters and unspoiled nature, D-Marin Mandalina offers a paradise for sailing enthusiasts and nature lovers alike.
Marina Kornati, BiogradnaMoru
Nestled in the charming town of BiogradnaMoru, Marina Kornati provides a gateway to the enchanting Kornati National Park. With its collection of over 140 islands and islets, this park is a true sailing paradise. Marina Kornati offers top-notch amenities and services, ensuring a memorable experience for boaters exploring the stunning Croatian coastline.
B. Rich maritime heritage in Poland
Gdansk Marina
Gdansk Marina, located in the historic city of Gdansk, showcases Poland's rich maritime heritage. Situated on the Motlawa River, this marina offers a perfect blend of history and modernity. Boaters can explore the picturesque Old Town, visit the famous Gdansk Crane, or enjoy the magnificent Baltic Sea. With its vibrant atmosphere and numerous cultural attractions, Gdansk Marina is an ideal starting point for unforgettable adventures.
Marina Sopot
Sopot, Poland's vibrant summer capital, boasts a marina that perfectly complements its lively atmosphere. Located on the Baltic Sea coast, Marina Sopot offers easy access to sandy beaches, trendy restaurants, and vibrant nightlife. Boaters can soak up the sun, indulge in water sports, or simply relax in the lively beachside atmosphere. Marina Sopot is not only a marina; it's a whole experience in itself.
Swinoujscie Marina
Situated on the Szczecin Lagoon, Swinoujscie Marina provides an excellent starting point for exploring the beautiful Polish coastline and its charming islands. Boaters can navigate through the intricate channels of the Odra River Delta, known for its rich biodiversity and tranquil landscapes. Swinoujscie Marina offers a peaceful retreat, far from the hustle and bustle of city life.
VI. Atlantic Island Paradises
A. Sailors' haven in the Azores, Portugal
Marina Portas do Mar, Ponta Delgada
The Azores, a Portuguese archipelago in the middle of the Atlantic Ocean, is a sailor's paradise. Marina Portas do Mar, located in the charming city of Ponta Delgada on São Miguel Island, serves as a gateway to this stunning destination. Boaters can explore the volcanic landscapes, swim with dolphins, or even go whale watching. Marina Portas do Mar provides all the necessary amenities for a comfortable and memorable stay.
Angra Marina, Terceira
Terceira Island, part of the Azores archipelago, is home to Angra Marina, nestled in the picturesque city of Angra do Heroísmo, a UNESCO World Heritage site. This marina offers a blend of natural beauty and historical charm. Boaters can explore the island's unique lava formations, visit ancient fortresses, or indulge in local culinary delights. Angra Marina is a perfect base for immersing oneself in the Azorean culture.
Horta Marina, Faial
Located on the island of Faial, Horta Marina is known as a meeting point for sailors crossing the Atlantic. Its famous painted docks, adorned by artwork left by past visitors, create a vibrant and unique atmosphere. From Horta Marina, boaters can explore the stunning landscapes of Faial, such as the majestic Caldeira or the volcanic Capelinhos. This marina holds an undeniable charm that captivates all who visit.
B. Canary Islands' coastal gems
Puerto Calero Marina, Lanzarote
Lanzarote, one of the Canary Islands, is home to Puerto Calero Marina, a true gem in the Atlantic. This marina offers a perfect blend of luxury, tranquility, and natural beauty. Boaters can enjoy the island's unique volcanic landscapes, visit the famous Timanfaya National Park, or simply relax in the marina's upscale facilities. Puerto Calero Marina is an experience that combines elegance with the captivating charm of Lanzarote.
Marina Rubicón, Playa Blanca
Situated in the popular resort town of Playa Blanca, Marina Rubicón showcases the best of the Canary Islands' coastal splendor. With its upscale facilities and stunning surroundings, this marina offers a haven for boaters seeking both relaxation and adventure. From here, boaters can explore the neighboring island of Fuerteventura, with its pristine beaches and world-class windsurfing spots.
Marina Santa Cruz de Tenerife
Tenerife, the largest of the Canary Islands, is home to Marina Santa Cruz de Tenerife, an ideal starting point for exploring this diverse island. Boaters can visit the stunning Teide National Park, hike through lush forests, or simply relax on the island's golden beaches. Marina Santa Cruz de Tenerife provides all the necessary services and amenities for a memorable stay in this tropical paradise.
VII. Summary: Exploring the Best Marinas in Europe for Unforgettable Adventures
Diversity of experiences and settings
Europe offers a diverse range of marinas, each with its unique charm and attractions. From the tranquil Scandinavian fjords to the vibrant Mediterranean coastlines, there is a marina to suit every boater's preference. Whether you are seeking an urban experience or a secluded natural retreat, Europe's marinas have it all.
Tailoring the marina choice to personal preferences
When choosing a marina, it's essential to consider personal preferences and interests. Some marinas offer a bustling city atmosphere, while others provide a tranquil escape into nature. Whether you are seeking historical sites, cultural experiences, or simply want to relax and enjoy the sea, Europe's marinas have something to cater to everyone's taste.
VIII. FAQs
What is the optimal duration for a marina stay?
The optimal duration for a marina stay varies depending on individual preferences and travel plans. Some boaters may prefer shorter stays, using marinas as convenient stops along their journey. Others may choose to stay for an extended period, taking advantage of all the amenities and exploring the surrounding areas. It ultimately comes down to personal preferences and the desired level of exploration.
How far in advance should marina reservations be made?
It is advisable to make marina reservations well in advance, especially during peak seasons or for popular marinas. The specific time frame may vary depending on the marina and the time of year. To ensure availability and secure desired berths, it is recommended to make reservations at least a few weeks or even months in advance.
Are marina fees typically inclusive of necessary services?
Marina fees often include basic services such as mooring, access to facilities, and showers. However, additional services such as fuel, Wi-Fi, electrical hookups, and water may have separate charges. It is essential to inquire about the specific services included in the marina fees when making reservations or upon arrival to avoid any unexpected expenses.
What are the top safety precautions for marina users?
Safety is paramount in any marina environment. Some essential safety precautions for marina users include:
Checking weather forecasts and sea conditions before departure
Ensuring proper maintenance and functionality of vessel equipment
Following designated navigation channels and speed limits within the marina
Securing lines and fenders properly when docking
Being aware of potential hazards such as underwater obstructions or shallow areas
Adhering to marina rules and regulations
Being knowledgeable about emergency procedures and having relevant safety equipment on board.
Can non-boat owners access marina facilities for leisure activities?
Many marinas offer various leisure activities and amenities accessible to both boat owners and non-boat owners. These can include watersports, fishing, fine dining restaurants, spas, swimming pools, and even cultural events. Non-boat owners can often enjoy the marina's amenities and surroundings, providing a chance to experience the maritime lifestyle without owning a boat.